Quick start
To understand how PathJam works, in the following steps we have a fast look at some of the available funcionalities:
1. Search for a single gene or list of gene identifiers. The following gene identifiers can be used for searching purpouses: Gene Symbol, Entrez Gene, Ensembl, SwissProt and OMIM.
2. Once PathJam has executed your query, search results are inmediately showed in a Java Applet.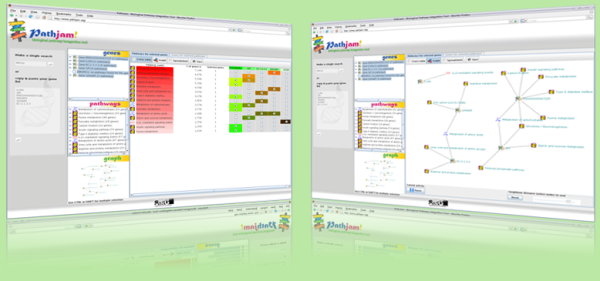 3. Click on one of the genes (or a group of them) from the list and the tab Pathways for selected genes will show you the pathways where each of selected genes are involved.
4. Click on one of the pathways (or a group of them) from the list and the tab Genes for selected pathways will show you the genes which each of selected pathways contains.
5. In both cases, different views showing the relations between genes and pathways become available: graph view, tabular view and cross table view. In addition, you can save the current view as image (if graph view is selected) or as cvs file (if tabular view is selected).